The Garden Oaks Gazette is the official publication of the Garden Oaks Civic Club and is published on a monthly basis. The Gazette's primary purpose is to disseminate information about Civic Club activities and community events. Delivered by volunteers to all homes in Garden Oaks, the Gazette features Civic Club news, updates on community activities, lifestyle columns, letters to and from the editor, and anything else of interest to the community as a whole.
The deadline for submission is the 10th of each month for publication the next month. Residents should receive their copy before the Civic Club meeting, which is the first Tuesday of the month.
Submissions can be emailed to the editor.
scroll sideways for more issues

Note: inserts are part of the monthly files after Sept. 2016
Underwriters and Volunteers Make it Happen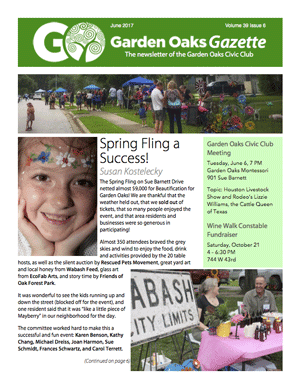 Advertising Rates and Info