Monday, December 11th and 
Tuesday, December 12th
6:00 – 7:30 pm
in Gazebo Park
Every year Santa comes to Garden Oaks in December in the Gazebo Park (intersection of Sue Barnett/W. 42nd and Lamonte).
Everyone is welcome to bring your whole family, including your fur family members, for enjoyment of the Winter Wonderland, visiting with the Clauses, and capturing many photo ops.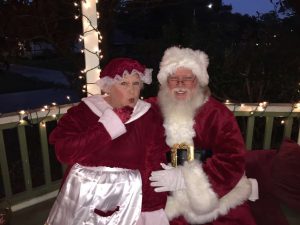 Interested in lending an elving hand? We have 2 opportunities for you to help! If you are a Handy Elf, we need helpers to decorate Gazebo Park for all Garden Oaksians and passersby to enjoy. Alternatively, if you are a Baker Elf, we would appreciate any homemade nut-free goodies that you can bring to either event night.
For questions about the event or to volunteer, please contact Elf Tina at tina@artsaliveinc.com.